Welcome to Imperatormorphs!
Imperatormorphs is a breeding collaboration of Tim Eisel and Thomas Rademacher. Our strong passion for wildlife and in particular for reptiles and boas is what driving us for more then a decade now where we "breed what you need!"
We keep you posted on a daily basis what happens in our facilities and show you our little and big gems and of course keep you posted when new babies are born!
To see more of us also check out our Facebook and Instagram account:
Facebook: https://www.facebook.com/Imperatormorphs/
Instagram: https://www.instagram.com/imperatormorph.s_world/
We are shipping worldwide and provide regular shipments to the United States, Canada and Japan for you! Due to optimized processes we are able to keep the shipping costs very low without needing any paperwork or assistance from your side! Just send us a message to talk about further details.
For our Europe customers:
We are also attending every Terraristika reptile show in Hamm Germany, which is well known as the worlds biggest show and takes place in March, June, September, December each year, which are also the only shows we are attending as vendors to keep the stress level for our animals as low as possible and to be honest … ours as well !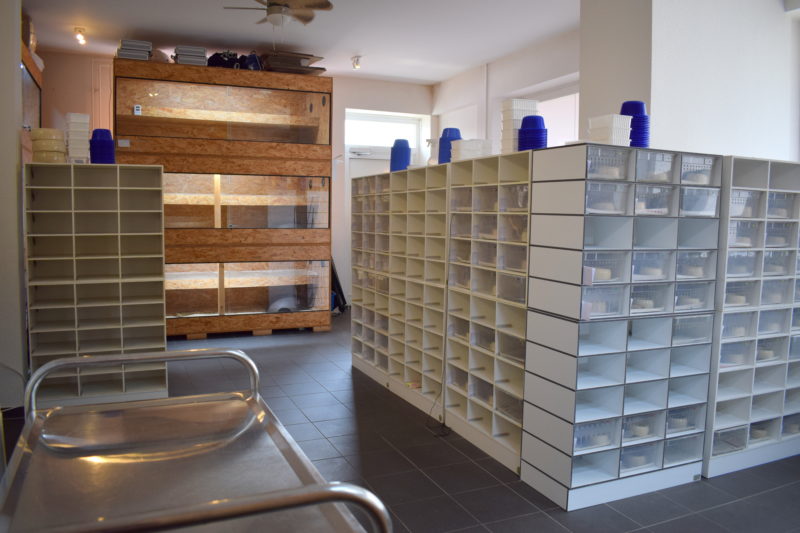 This is a part of our facility where our baby boas are kept.
We can work out shipments and pick ups in collaboration with you and in many cases give assistance, cause over the years our animals have made their way safe and sound to Denmark, Sweden, Norway, Netherlands, Poland, Switzerland, France, Italy, Hungary, Romania, Spain (incl. Canary Islands), Belgium, Great Britain, Greece …. well let´s say Europe and many more :-).
Just send a request, maybe we have an idea how a safe shipment can be organized.
Attention for customers from countries outside the "EU", we need one to two month leadtime to apply for CITES documents to be on the conservative and safe side! Yeah German authorities can be a pain in the …
This is our room where we keep our subadult boas and males.
Feel free to contact us if you´re having any questions related to our animals or Boa imperator husbandry and breeding in general!
Looking forward to talk to you soon!
Best regards Tim
Imperatormorphs